GPSPATRON is an engineering-focused company offering practical solutions to counteract GNSS spoofing, jamming, and signal quality issues.
Our team is dedicated to conducting scientific research that leads to the development of advanced GNSS spoofing/jamming protection products and solutions. We also provide services for customizing and integrating our solutions into clients' existing infrastructures.
GPSPATRON History
GPSPATRON was established in mid-2018 in response to a client's concern about GNSS spoofing\jamming\interference. Armies, authorities, and security companies utilize spoofing to protect VIPs from drones. As all GNSS receivers are vulnerable to spoofing attacks, various sectors, including UAV, time synchronization systems, RTK applications, are affected. Over the past decade, the cost of executing GNSS spoofing has decreased from $100,000 to $100 due to the widespread availability of low-cost SDRs and open-source projects on GitHub.
We brought together a team of engineers experienced in developing enterprise-grade solutions, specializing in automated measuring systems for infrastructure monitoring, production line automation, and GNSS. Our team is passionate about projects related to the Internet of Things (IoT), 5G, radio spectrum monitoring, high load, and machine learning.
Before launching the project, we examined numerous scientific publications and created a GPS spoofer with advanced attack scenarios. We invested substantial time in experimenting with GNSS modules and time servers. The spoofer enabled us to develop various attack techniques and study the effects of spoofing. We discovered that analyzing the spatial characteristics of GNSS signals is the only way to detect intentional, coherent spoofing. After multiple iterations, we developed a system comprising a three-channel GNSS probe and cloud service.
Following a series of successful months-long test zones in regions with high GNSS spoofing densities, we are confident that GPSPATRON can detect multi-constellation, military-scale spoofing attacks. Moreover, the system was successfully tested during JammerTest 2022 in Norway. Link to test report.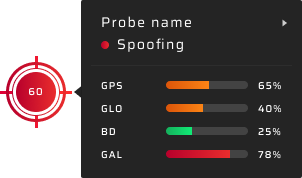 Our Mission
GPSPATRON aims to provide effective enterprise-grade solutions for:
– GNSS interference detection\classification\localisation
– GNSS signal quality analysis and logging
– Vital infrastructure protection against GNSS spoofing
– RTK base station quality monitoring and protection
– Clock synchronization accuracy monitoring
Location
GPSPATRON Sp. z o. o.  |  20 Prosta str  |  Warsaw  |  00-850  |  Poland
Our Customers
Protecting Critical Infrastructure from GNSS Interference Globally